When it comes to customers choosing for your business, we can agree that your images online play a fundamental role.
Think of it as the presentation of your venue to your entire audience; you probably want to display that particular service or product in its best possible way. Listing helps you publish your best photos on all platforms we support, so you make sure the best version of your venue is out there, ready to be chosen.
How can I do that?
Go to your Listing's home page


On the right side, you will find the "images" section


Click on edit
Each type of image has its own purpose, which is described below:


| | |
| --- | --- |
| Logo | This logo will be used to send to different channels/directories. |
| Square Logo | This logo is specifically for Facebook and used for Listings (internally). |
| Cover photo | The first image will be shown in your GMB listing (uploaded by the owner section) and will also update Facebook's timeline cover*. |
| Main photo | It allows to prioritize one image across all of those uploaded (under More photos), so that channels take it as the first one to display. |
| More photos | Photo's that give a good image of your location, these can include photos of the interior, exterior, dishes, products et cetera. |
*Facebook provides specific dimensions for the display of cover photos. On desktops, the photo is displayed at 820 pixels wide by 312 pixels tall, while on smartphones, the dimensions are 640 pixels wide by 360 pixels tall. It's advisable to use the dimensions 820 pixels by 360 pixels (16:9) and to keep all text and graphics centered.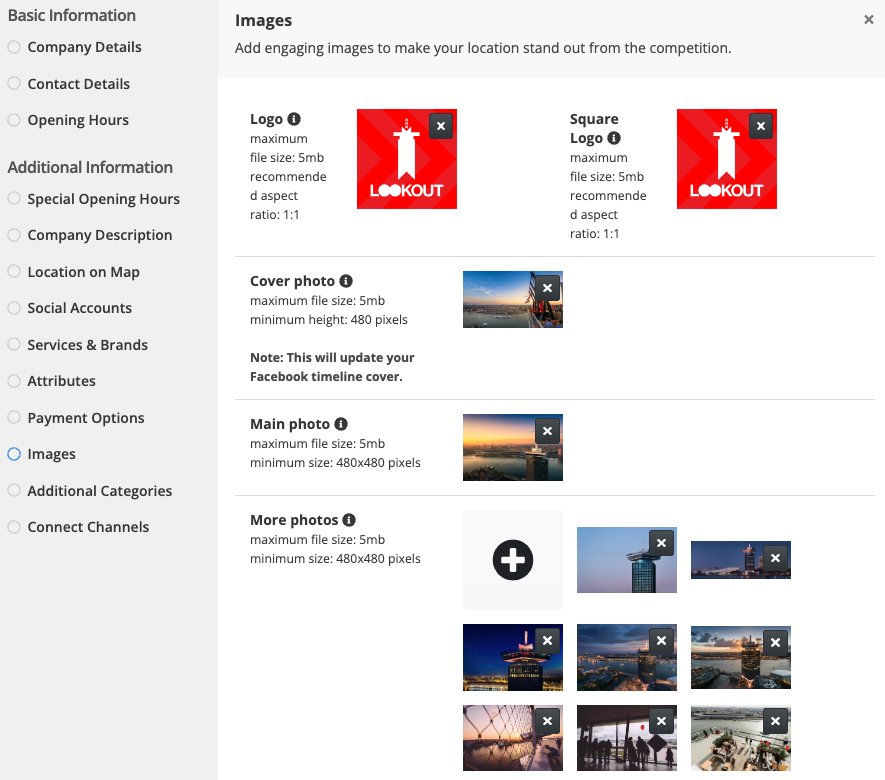 I don't want the photos to be published on Facebook, what can I do?
Please let us know through our support channel, and we will disable this option for you.

Tip 1: Please note that Google handles specific guidelines for photo's. Images as stock foto's and screenshots are not allowed. For more information, you can also check out Google's policy here.
Tip 2: Show your products and services in the best possible way! Think of adding pictures of the exterior and interior of your business, common rooms or service areas, nice pictures of your products, your displays, your team in action and why not add that nice group picture of your team? Give your customers a great impression of what your business is all about!