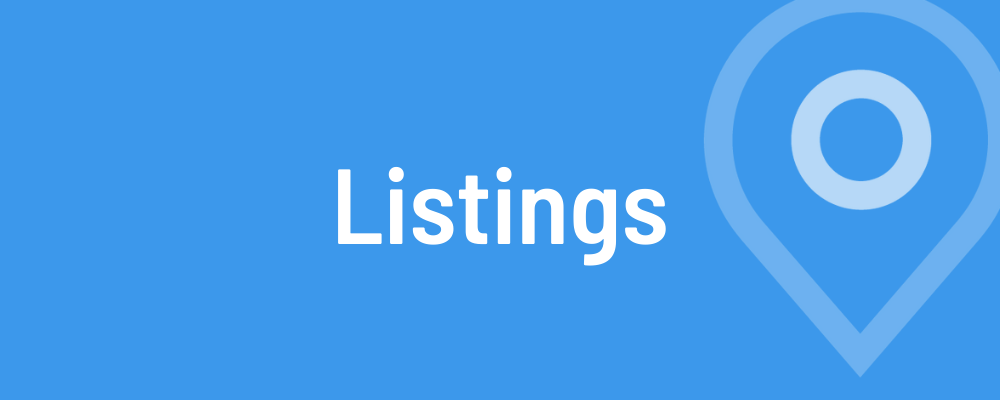 How does Listings work with my social media channels; how can I unsubscribe? Questions like this and more, you can find the answer here:
Listings and Social Media

QUESTION
ANSWER
Does Listings create a new Facebook page?
If no Facebook page exists for the business, Listings will automatically create a so-called 'unofficial' page. This is a company profile that shows details such as name, address, phone number, website, description, opening hours, category, profile photo.
If desired, an 'unofficial' page can be connected to Listings, claimed, and converted into an official company profile.

If a Facebook page already exists, it will be detected and can be connected to Listings.
How does Listings affect a Facebook page?
None, Facebook can be used as usual. Simply, the company data and logo will be updated.
What is Google My Business?
In 2014, Google merged several services under the new offer of Google My Business. By using Google My Business, small and medium businesses are able to significantly improve their visibility in local Google searches with little effort.

In an individual account, all of your company's contact details are entered, which then also appear on Google Maps and Google Search.

By integrating your company in the map service Google Maps, potential customers have the opportunity to find your business, learn of the opening hours and directly calculate a route. Many local Google searches are performed via the smartphone. If your phone number is listed on Google My Business, the potential customer can contact you immediately with a single click.
Does Listings create a new Google My Business page?
If no Google My Business profile exists, one will automatically be created. Then, it is up to you to initiate the verification process. Even if a profile exists but has not been verified by you or your client, the location needs to be verified. In both cases, either a postcard with the verification code will be sent to the registered business address, or a phone call given to the business phone with automatic transmission of the verification PIN. The verification code needs to be entered into the Google My Business account in order to complete the verification process.
If you already have a Google My Business profile, it will appear as "claimed by others". For Listings to be able to update the profile with the most recent information, you need to be added as an administrator.
There is an existing Google My Business page for my business. How is this possible?
There are two possibilities: either a page has already been created by an employee or an agency, or Google took over the business data from a directory (e.g. telephone directory, yellow pages). In the first case, we recommend finding out who created the listing in order to claim it. In the second case, Listings will claim the listing and update it.
What is Bing Places?
This service of Bing is largely comparable to Google My Business. After inputting all data and contact details at Bing Places, the information will appear in the Bing search results. The information displayed corresponds to the equivalent of what is shown on Google. Apart from your address - which is of course shown in Bing Maps - you may also specify your business hours.

We always advise to save a phone number so that your customers are able to reach you. In addition, the URL of your company's website is very useful, as well as links to the business profiles on Facebook, Twitter or Google+. To further increase the attractiveness of your Bing Places account, it is possible to integrate photos of your business or the products or services you offer.

With pictures of the outside of your business, your customers may find the location more easily, and an appealing photo of a product increases the desire to buy!
Which content is published on Instagram?
If you sign up for our service, all photos that are marked with your business' geotag will be collected. Hence, you will gain a quick overview of all images that were published about your company.
What is Foursquare?
Foursquare is a social location-based platform.
If your (potential) customer is, for example, in a restaurant, he or she can check in on the Foursquare app. Like this, he/she can let friends know of his/her location, write a review of the location and simultaneously share everything via Facebook or Twitter.
End of contract: Cancel or close a location
What happens when a location is canceled or closed down? What is the difference between the options cancel location and close location?
Close location - If you choose this option, the listing will be immediately deleted from the channels. Therefore, the location data is no longer online. You should only select this option if the local business was closed down. Nonetheless, the location will be invoiced till the end of the contract period.
Cancel location - If you cancel a location, the listing and all location data exist in the channels and can be edited until the end of the contract period. The location will be invoiced till the end of the contract period.
What happens to the location data after a location has been deleted, or the contract has been terminated?
If a location is deleted or the collaboration with Listings discontinued, the listing will no longer be checked / updated daily which means that third parties are able to modify the location data. Over time the data of the customer will be incorrect.
Furthermore, Actively syncing the data to the various platforms will result in a higher ranking. This due to the fact that the platforms rank fresh data higher. Disconnecting from the Listings service will stop the active sync and therefore the rankings will suffer.