The service area is for businesses that visit or deliver to local customers.
For example:
A business that visits or delivers to customers, but doesn't serve customers at its business address (e.g. a plumber, private lessons, or cleaning service).
A business that serves customers at its business address, but also visits or delivers to customers (e.g. a restaurant that also delivers food).
If your business serves customers within a specific service area, you can list it to define the area your business operates in. Listing your service area helps let customers know where you'll go to visit or deliver to them.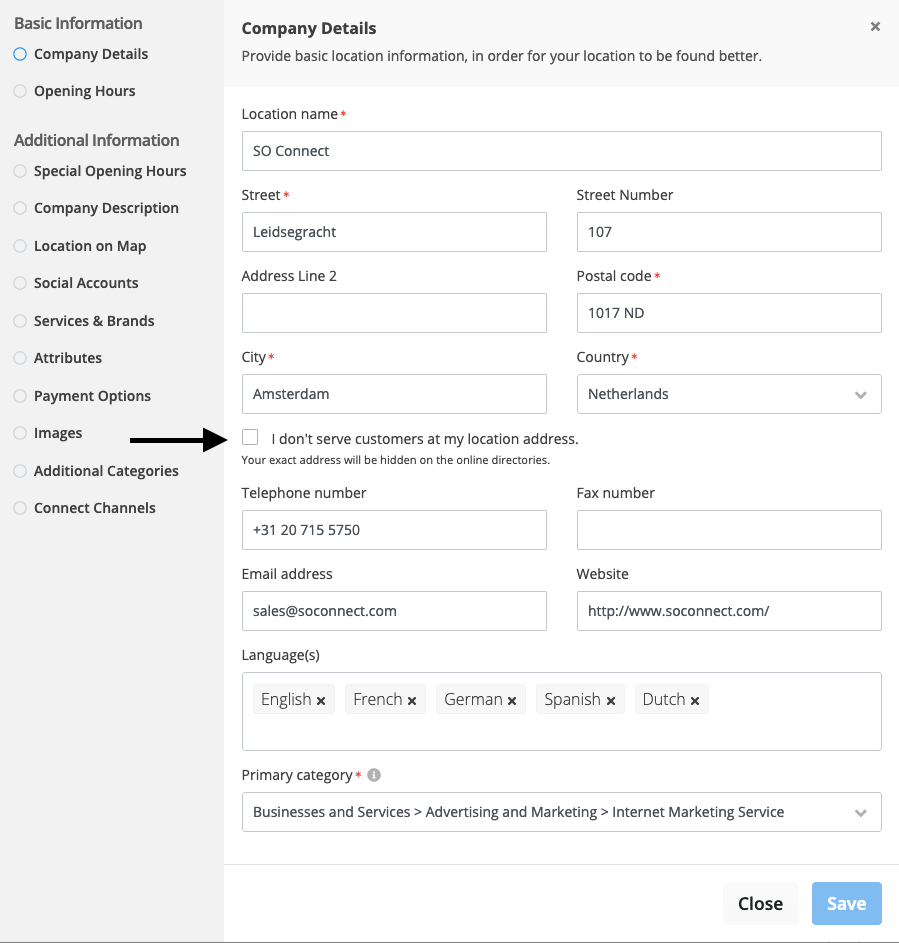 How does it work?
It is available as a field in Location's Basic Data tab, where you can define the name of the relevant service area. You'll need to specify your service area by city, postal code, or other areas (s), like San Francisco, CA or Islington, London.
Take into account that this feature is category-based and not every category would support it (e.g. gas station, coffee place).
Which combinations can be managed through the platform?
There are multiple combinations that can be set up depending on the business needs:
location with just address
location with the address & service areas ('hybrid' locations)
location with just service areas
Google does not allow having any of the settings mentioned above.
Are multiple service areas supported by Google? How many?
Google currently supports up to 20 service areas per location. If more is needed, we recommend expanding the existing ones to cover larger areas.
Important
Once ticked, the address display flag in the backend is OFF, therefore, we can only submit data to the directories that support that feature(Google, Facebook, and Bing). The channels that do no support hiding the address will therefore be inactive (because they can't process our data with that flag OFF).
For service area businesses, with Yelp, for example, you can't have a listing there.